HELPING THE COMMUNITY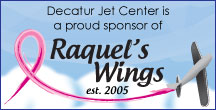 Raquel's Wings for Life is a non-profit organization which transports cancer patients to medical facilities.
Almost 500 trips have been flown from the patient's home to the medical facility of their choice at no charge to the patient.
If you would like to make a donation for this cause, or if you have any questions, give us a call!! 940-627-1050
The annual Bike Rally in support of Raquel's Wings for Life will be held in September.
Fabio LaBrada, founder and pilot for Raquel's was selected the Wise County Person of the year in 2019!!